Past Events and Workshops
Collective Conversation: Seeing Precarity
13 September 2021, 11am-13pm CEST, Online
This collective conversation was held in the context of the EISA's Early Career Researcher Workshops (ECWs)
If the violent origins of aid can be seen as part of our contemporary humanitarian landscape, what would aid look like and where would it take place? And, what if the need for assistance moves from our (Western) TV screens and into our backyards, farmlands and road infrastructure and into our line of sight?
This conversation brought together researchers, practitioners and thinkers in general who are posing themselves, the spaces around them and the systems in which they exist (and confronted with) forward-looking questions that seek to not only (re)situate the problematic histories of humanitarian aid but also pose questions about reimagining a system that sees both beyond its edge of sight as well as inwardly, to precarity in our neighbourhoods, cities and communities. What if we move away from the dichotomies of humanitarian assistance being needed 'elsewhere' all the while invisibilizing suffering 'at home'? This ECW conversation touched on ideas, methodologies, and practices of humanitarian aid that see the sector not as a unified or normatively superior engagement with the world 'elsewhere', but rather reimagines aid as everyday practices of seeing, sensing and engaging with the realities of precarity, distant or close to home.
Photo credit: @tomslater42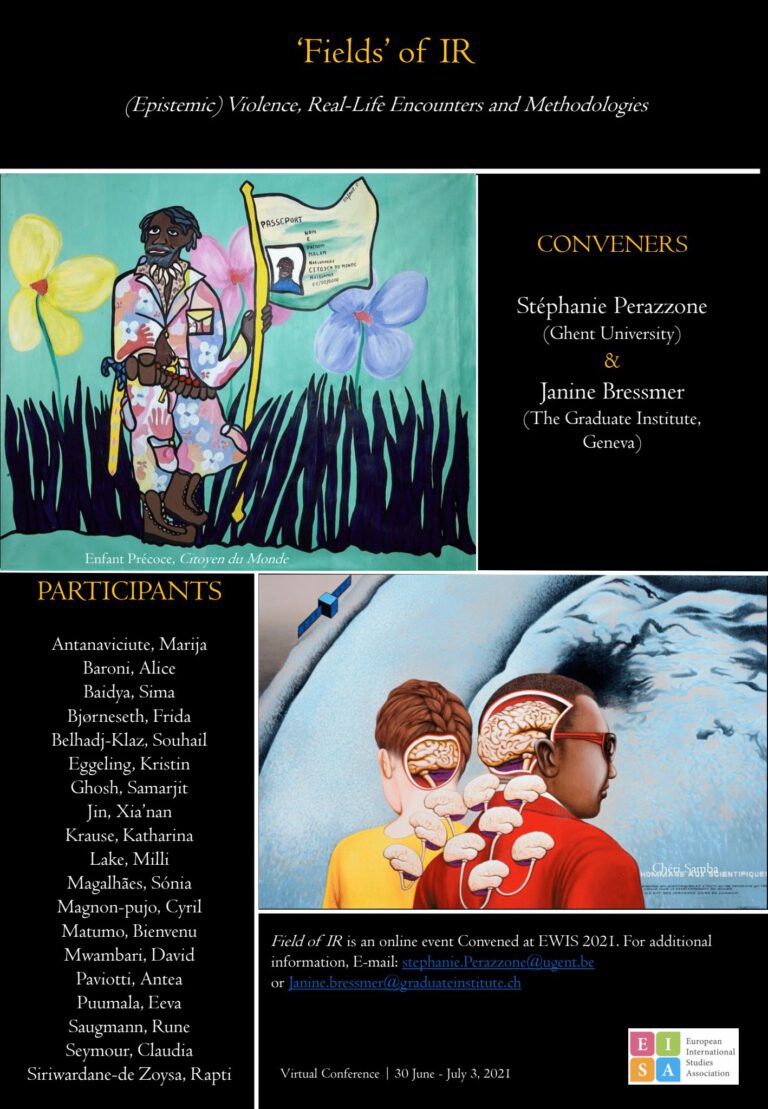 Workshop: 'Fields' of IR: (Epistemic) Violence, Real-Life Encounters and Methodologies
European Workshops in International Studies (EWIS)
30 June – 3 July, 2021, Online
An increasing number of IR scholars engage in different forms of 'fieldwork' across the world, researching sites marked by similar global inequalities, violences, and dangers. In doing so, students, researchers and professors have aimed to bring the 'reality on the ground' to the forefront of their analytical work on war, peace, terrorism, globalization, commerce, migration, fragile states and the like. Despite the ethical and political difficulties of such work, surprisingly little attention has been focused on the private, secret and other 'lives' of the countless individuals – researchers, brokers, assistants, informants, and organizations alike – who populate the 'fields' of IR.
This European Workshop in International Studies brought our shared expertise to bear on emerging discussions on how we research world politics: to interrogate our moral, discursive and material 'fieldwork' practices from a creative, inter- disciplinary and critical lens, and explored novel perspectives that help bringing forward increasingly diverse outlooks into IR.